We had lots of lovely Mother's Day and Craft Buddy cards last fortnight.
This fortnight we have a tutorial by Heike making a beautiful Easter basket.
So you guessed our Challenge is:-
Easter or Animals
or combine both
Our sponsors are -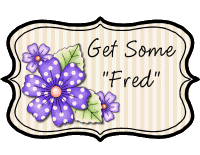 I have used a Bugaboo image called Puppy Love, heart string
He is a cutie pup.
I have made a little folded wrap which contains some lovely chocolates, yummy.