That was a quick two weeks, well I was away for one of them on a little trip to Durham and the surrounding area. It was a lovely break.
This time on Top Tip Tuesday we have great sponsors listed below:-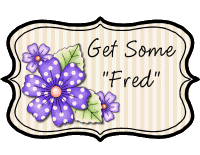 Our lovely Lisa S. has a tutorial which can used to make little pieces of art with younger children.
Therefore our theme this time is:-
I have used one of Kenny K's images Victory Boy.
This makes a great kids card using vibrant colours.
I also used American Crafts paper, Promarkers, Lili of the Valley tag stamp, Dovecraft brad and the rest from my stash.